Intercultural Learning
Everybody is a minority

Sylvain Coiplet

2/2003
Bozen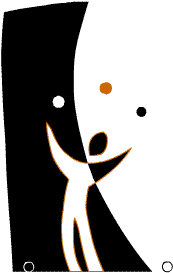 First of all, there are Italians in Italy and Germans are a minority. However, in Northern Italy there is a region — Southern Tyrol — where Italians are a minority and Germans a majority. In turn, there is a town in Southern Tyrol — Bozen — where the Germans are only a minority any longer and Italians are the majority. And it is also up to the individual Southern Tyrolean, who according to law has to decide every ten years, whether he is German or Italian.
Some of them cannot decide clearly. They do not know which culture inside of them is a majority or minority — or they do not want to know. They rather want to stand between those two cultures and build bridges.
Last autumn, the Italian neo-fascists managed to veto by referendum against the Bozen Magistrate's decision to rename the so-called Victory Square into Peace Square. The name Victory Square was symbolic for Mussolini's attempt to Romanise Southern Tyrol forcefully. A Peace Square would have symbolised Germans and Italians' peaceful co-existence. This naming goes back to a common decision of the conservative German People's Party and the Italian left. However, why were the majority of the Italians in Bozen against peace?
Bozen is not a fascist's town. Many Greens and Socialists have voted for Victory Place as well. Bozen rather demonstrates how easily the game could become for fascists if there was no consequent implementation of social threefolding.
In Southern Tyrol, there could not have been done too much against the separation of the two languages. On the Italian as well as on the German side, politicians have abused education policy to practice monoculture in schools.
The German Conservatives, who hold the party majority in Southern Tyrol, do not want the Germans to declare themselves as Italians during the next population census and try to undermine bilingual education in schools. Even a complete ban of the so-called "immersive education" was considered. For those politicians, it is a part of minority protection against Italy. The only minority who deserves this name is the individual member of humanity. If somebody — even in school — should immerse into a foreign language completely or just tiptoe into it must be left up to one's own decision. German Conservatives do a disservice to free human play with different cultures.
In Italian schools, German stays a foreign language. And most Italian private schools are not any better as Catholic or elitist schools. This belongs to the arrogance of a spoiled Italian majority culture that feels wrong in Southern Tyrol.
While Germans manage to have competence in the Italian language despite their politicians, many Italians lack German language ability. They suffer from professional consequences. In the newspapers they can only learn about the Germans' bulk heading attempts. Thus Italian street signs had to be taken down by the order of Magistrates dominated by Germans. Such details are sufficient to help the neo-fascists to a Victory Square in revenge.
Munich
The Bavarian Interior Minister Günther Beckstein dreams of re-educating those foreigners who live in this country. They should learn German and think German. The readiness to learn decreases with age, which is something he learns from his own life. And those who ask themselves when Günther Beckstein was was ready for the last time to look for something new, need only know that he wants family members of foreigners enter Germany only if they are younger than ten years. This allows a deep glance into his soul.
Günther Beckstein gave us proverbs as the following: "We reach the limit of our capacity" or "The German culture must gain relevant acceptance from our foreign citizens." If he understood something about our German culture, he could not make such a claim. Not for nothing, Friedrich Schiller saw the mission of this culture in learning from different cultures, expressed in a poetic way: to "reap". Goethe demonstrated in his West-East Divan that they could also learn from Islam. Here it becomes obvious that concerning German culture Günther Beckstein had reached the limits of his capacity very early in his life.
To reap the best from each culture, it takes more humans who can truly build bridges between those cultures. This is not going to be achieved by the German language courses and language test for school admission proposed by Günther Beckstein. Not foreign pupils have to be assimilated to German schools, but schools have to be adapted to the requirements of cultural variety.
Kreuzberg - Mannheim
Not for nothing, the Waldorf School in Berlin-Kreuzberg sets trends towards cultural variety. There, a pioneer project is to be started: Turkish children are taught initially in their mother tongue and only in their later years gradually switch to classes in German language. The transition can be made gradually since foreign languages — in this case also German — are taught intensively from the first year onwards. More than 100 Turkish parents have signed up so far. And also the teacher with relevant intercultural competence has been found. The problem still lies in funding. While the budding teacher alerts to the fact that Turkish parents can rarely pay the school fees, others — as Michael Wilhelmi — remind that such a project should fund itself in the longer run. The state is rarely going to jump in.
While in Berlin-Kreuzberg everybody is still waiting for the money, in Mannheim several Waldorf teachers have warmed their hearts and taken their fortune in opening the first intercultural Waldorf School. Thus we will be able to report about first experiences soon ...
Translated from the German by Matthias Hammelehle